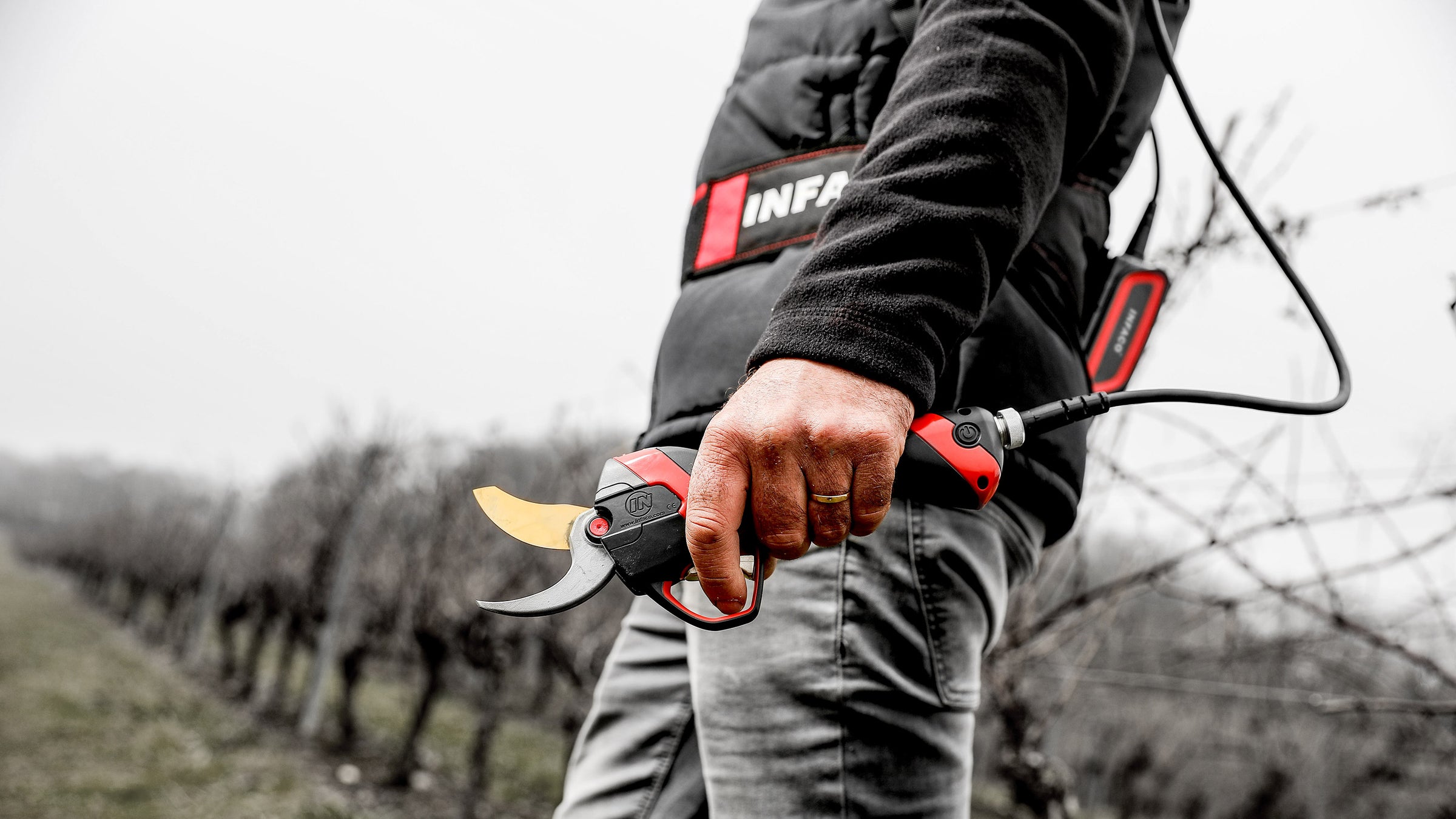 Shear with
standard
head option
Built for speed and agility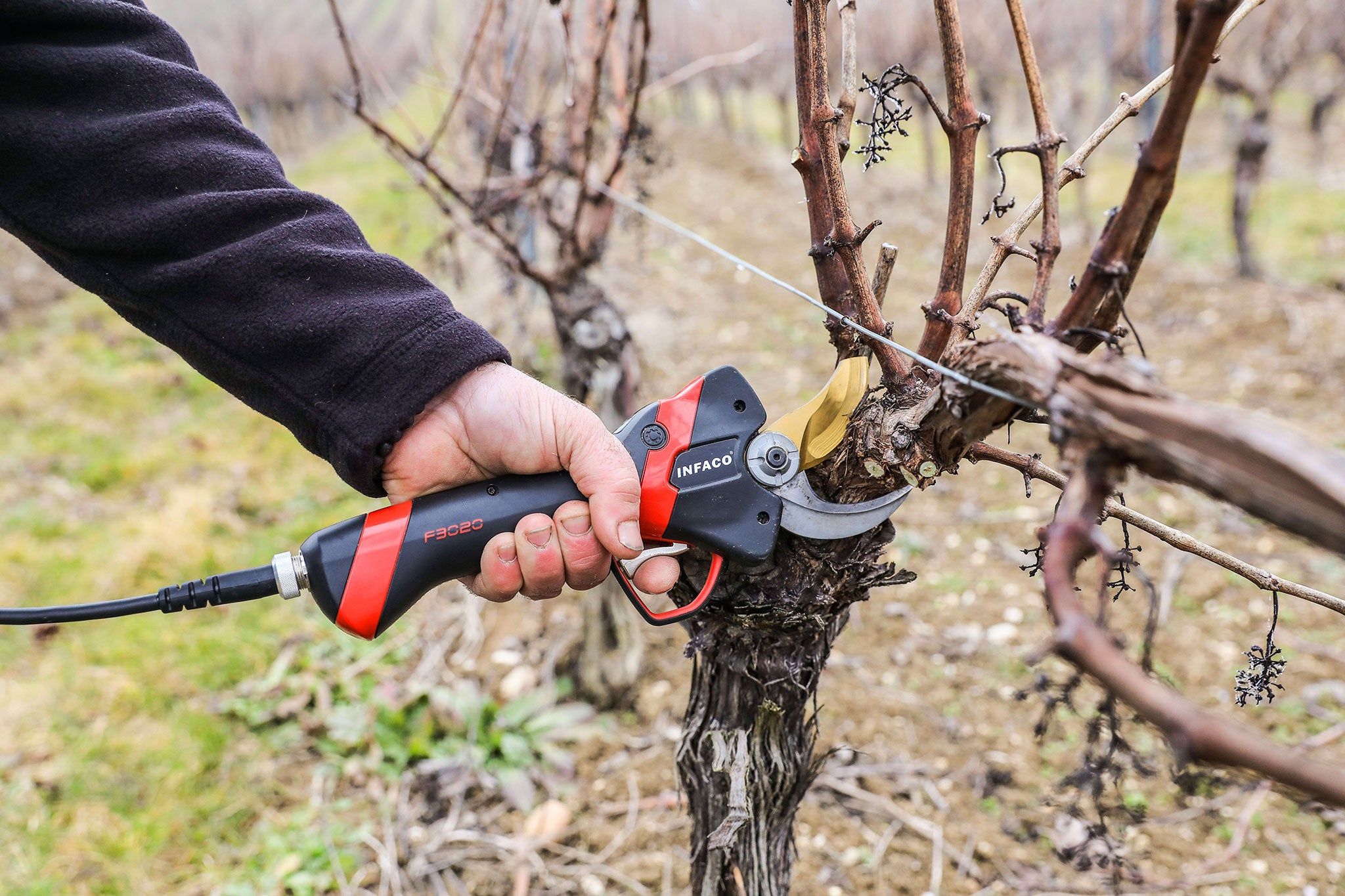 Shear with
medium
head option
Perfect balance between speed and power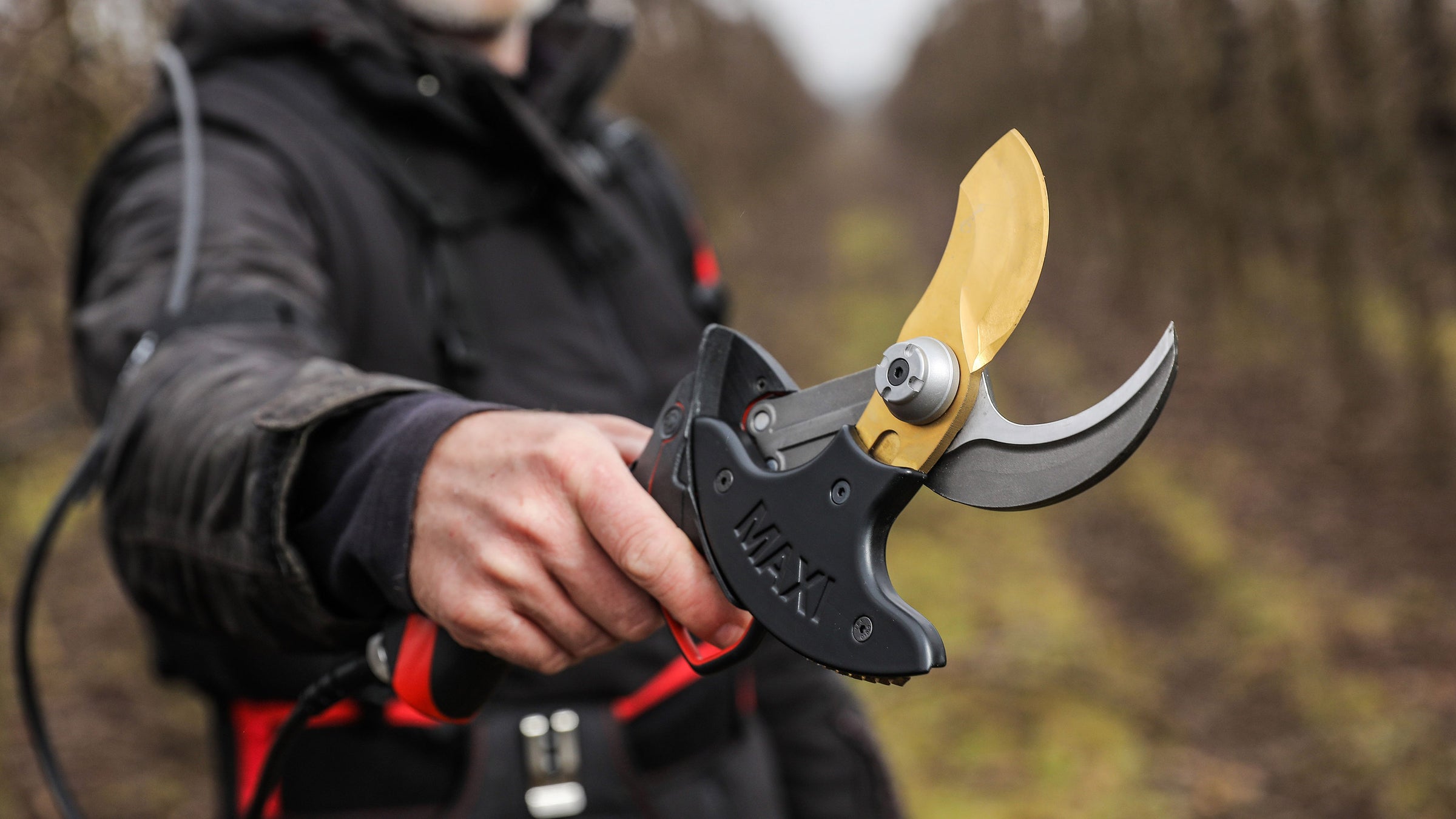 Shear with
maxi
head option
All about power and cutting capacity
Each complete set includes:
- INFACO pruning shear
- 36V Battery and cable
- Quick Lock-Unlock shear holder
- Battery carrying vest and armband
- Smart battery charger
- Lubricating grease pump
- Replacement blade
- Sharpening stone
- Carrying case
- Torq wrench
Standard DSES safety system
All our F3020 pruning shears are fitted with the DSES Wireless safety system.
This new system is composed of a conductive trigger that makes the connection between the user's body and the shears' electronic system.
As soon as the cutting head touches the opposite hand (bare or wearing our special conductivity glove), the pruning shear blade opens instantly, thereby preventing accidents!
Ultra lightweight battery and smart charger
The F3020's new 36V and 107Wh Lithium-Ion Cobalt battery weighs only 24.6 ounces.
Its sleek design and reduced volume provide an 8hr day of pruning without recharges. With its multi-purpose carrying system, the F3020 battery can easily slip into a pocket or click on a belt and will quickly be forgotten during your pruning sessions.
2 hr complete charging cycle (cell balancing included).
The "winter mode" charging option places the battery into an extended storage state, optimizing its service life.
F3020 battery vest
Designed to provide unprecedented comfort, the F3020 vest is highly ergonomic and easy to use.
Thanks to the new straight cable
system that ingeniously crosses the vest to the shoulder (with included band), it can almost be forgotten.
Benefit further from the lightweight sensations
of your F3020 pruning shear and work all day with ease.

The battery can be carried
in 4 different ways:
• Directly in a pocket, thanks to its small format
• Using the pants belt clip
• On the belt (without the removable shoulder straps)
• On a vest with shoulder straps

Half aperture adjustment
Choose a blade opening position
suited to your pruning habits.
10 easy to program positions to
get the half-opening position.
Blade overlap adjustment
Optimize your blade service life
using the electronic blade bypass system.
10 easy to program positions to
obtain the ideal blade bypass.
Two operating modes
Progressive "Soft" mode. For those users who prefer flexible tool control over productivity.
Progressive "Standard" mode. Suitable for experienced users who want to fully benefit from the cutting speed of the new F3020
Extend the reach of your pruning shear View all
Don't take our word for it
★★★★★

We purchased a pair of pruners about 10 years ago and have been using them ever since.

We currently own 6 pair of F3010 with 3 being medium heads, which has greatly improved our productivity in our orchard. We can make large cuts in our apple trees and speed up pruning with less fatigue.  

I have received the same response from the people I have recommended the pruners to.
★★★★★

Our vineyards are in Shenandoah Valley, Amador County, California. We are happy with the shears that we purchased from you.

It cuts our Zinfandel grapevines much better than we could purely manually.

It's easy to gather the canes with the left hand while pruning with the right hand.
★★★★★

We purchased the Electrocoup F3010 system to enable sustained pruning by our small winery's aged staff.So far it's been an excellent tool, enabling a 55 yr old sedentary "owner" to prune an acre in less than 8 hrs.

Battery life is excellent, and the shears cut through anything ~1 1/2 in (40mm) with ease. The safety system, (conductive glove) works well, and is non obtrusive once you figure out how to route the wire to avoid picking up canes that you toss overhead.

You will want to buy the holster or use an electric drill holster on the belt to enable you to carry the whole rig easily with hands free.
★★★★★

Add customer reviews and testimonials to showcase your store's happy customers.
Use this text to answer questions in as much detail as possible for your customers.
Use this text to answer questions in as much detail as possible for your customers.
Use this text to answer questions in as much detail as possible for your customers.