Setting the number of turns and tension
Adjusting the tie size is separate from setting the number of rotations the head makes to twist the tie shut. This increases the versatility of the tool by making it possible to make a loose tie that's twisted shut with many rotations and vice versa.
Wide range of wire diameters
Choose from these available wire gauges
depending on your needs:
0.40 mm / approximately 1000 ties per reel
0.46 mm / approximately 900 ties per reel
0.50 mm / approximately 650 ties per reel
0.55 mm / approximately 500 ties per reel (only compatible with 48V tying machine)
Ultra fast wire roll change
Located on the tool and easy to access, the wire roll can be changed in just a few seconds.
Extend the reach of your pruning shear View all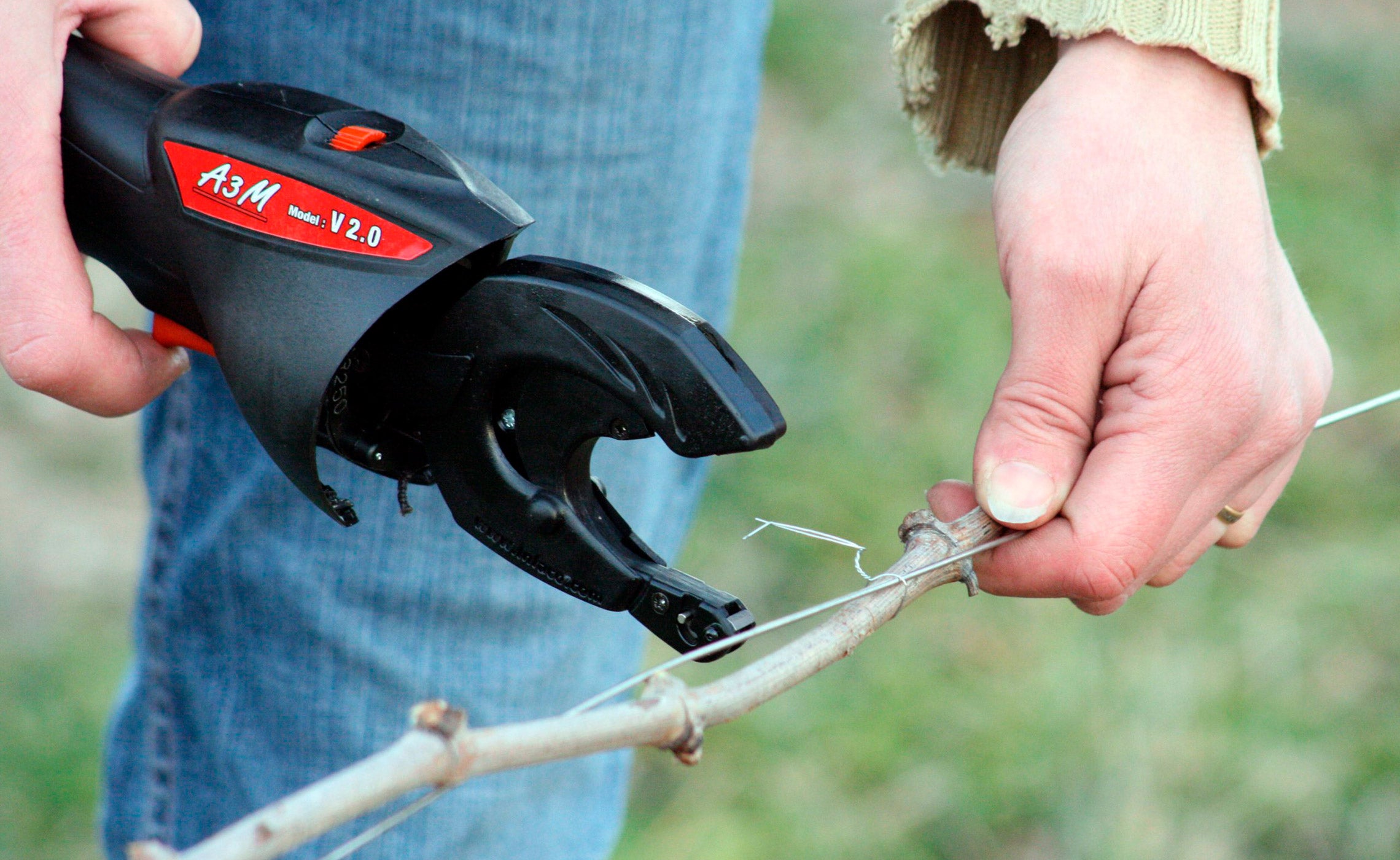 less than 0,4 sec tying time
Don't take our word for it
★★★★★

We purchased a pair of pruners about 10 years ago and have been using them ever since.

We currently own 6 pair of F3010 with 3 being medium heads, which has greatly improved our productivity in our orchard. We can make large cuts in our apple trees and speed up pruning with less fatigue.  

I have received the same response from the people I have recommended the pruners to.
★★★★★

Our vineyards are in Shenandoah Valley, Amador County, California. We are happy with the shears that we purchased from you.

It cuts our Zinfandel grapevines much better than we could purely manually.

It's easy to gather the canes with the left hand while pruning with the right hand.
★★★★★

We purchased the Electrocoup F3010 system to enable sustained pruning by our small winery's aged staff.So far it's been an excellent tool, enabling a 55 yr old sedentary "owner" to prune an acre in less than 8 hrs.

Battery life is excellent, and the shears cut through anything ~1 1/2 in (40mm) with ease. The safety system, (conductive glove) works well, and is non obtrusive once you figure out how to route the wire to avoid picking up canes that you toss overhead.

You will want to buy the holster or use an electric drill holster on the belt to enable you to carry the whole rig easily with hands free.
★★★★★

Add customer reviews and testimonials to showcase your store's happy customers.